LAVAL, OCTOBER 24, 2022—At the Ignite 2023 annual event in Orlando, EC Solutions won the Epicor Gold Partner Award as part of the Annual Partner Program. 
When selecting Gold Partners, Epicor considers customer portfolio, revenue generation and success in helping customers grow through the use of Epicor ERP solutions tailored to their needs and objectives.  
Epicor Gold Partner Program
The Epicor Partner Awards are designed to honour members of the Epicor Partner Program who have demonstrated their ability to support and help companies around the world to grow and transform.  
There are several categories in different geographical regions in which partners are awarded. These categories range from Global Partner of the Year to specific recognitions such as Customer Collaboration and Marketing Excellence.  
Our partners are an extension of our sales force, and we are fortunate to have an elite group of IT professionals aligned with us to help our customers focus on growing their business, innovating, and improving the customer experience.

—Brenda Nobleza, Regional Vice President, Americas, Epicor Software Corporation  
EC Solutions Stands Out for its Extraordinary Results and Outstanding Performance
Building strong relationships with our customers is crucial. It's what enables us to achieve the best results in the industry.

—Stéphan Leclerc, President of EC Solutions
Congratulations to EC Solutions on their Epicor Gold Partner Award. They have enabled the company's growth by implementing Epicor solutions.

— Brenda Nobleza, Regional Vice President, Americas, Epicor Software Corporation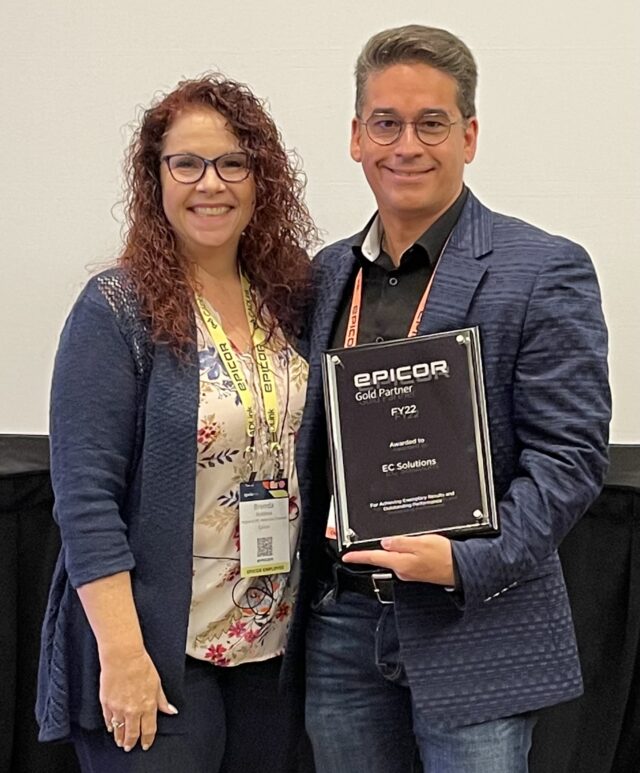 Contact Our Experts
Our certified experts will be happy to discuss your objectives, answer your questions and advise you in the execution of your technology project. We favor a consultative approach to ensure that you have all the information you need to make the best decisions for your needs.
Address
3200, Highway Laval West
Laval (Quebec), H7T 2H6
Request a Call Back
If you'd like to talk to our consulting team, contact us via the form and we'll get back to you shortly.