EC Solutions has been working with Matritech for many years. Thanks to the support of our team, this metal transformation company was able to migrate to Epicor Kinetic, the best ERP software for manufacturers on the market.
Find out all about our collaboration with Matritech and how Kinetic and EC Solutions' expertise was key to unlocking their success.
The Ultimate ERP Solution for Improved Project Management in Metal Fabrication
To develop their business, optimize their processes and improve the use and accuracy of their ERP modules, Matritech needed a team that fully understood the challenges of their operations. That's where EC Solutions' expertise comes in.
When it comes to manufacturers, no software is as powerful and flexible as Epicor Kinetic. This cutting edge Epicor ERP solution includes a wide range of applications and tools designed specifically to meet the needs of manufacturers such as Matritech. All these elements promote better collaboration between different departments and processes, offering superior digital support.
Technical Sheet & Objectives
Company: Matritech
Location: Drummondville, QC
Industry: Metal fabrication & assembly
Objectives:

Achieving expansion targets
Developing & optimizing ERP solution modules
Improving and streamlining processes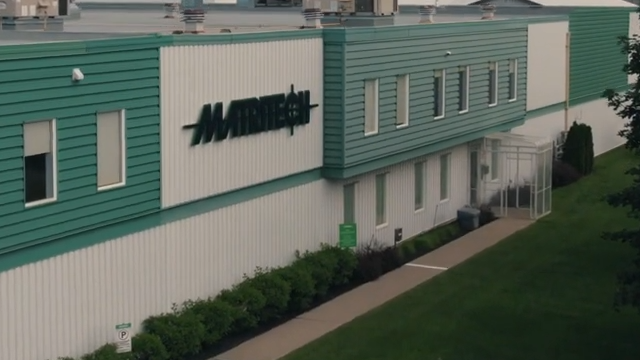 Matritech, EC Solutions & Epicor Kinetic:
A Symbiotic Partnership
Matritech specializes in the manufacture and assembly of metal parts. Founded in 1989, the company proved its expertise with high-profile customers such as Bombardier, Inglis and General Motors.
Matritech presents itself as a one-stop shop for mid- to large-scale manufacturers looking for a reliable service partner. The company offers 9 different metal fabrication services, including laser cutting and robotic welding.
Epicor Kinetic ERP as Defined by Matritech
Matritech decided to migrate to Epicor Kinetic in 2021 and immediately partnered with EC Solutions to ensure a smooth transition. From the very first meeting, a project manager specializing in digital transformation at EC Solutions was assigned to the migration.
Matritech's advantages included the ease with which the migration project could be managed, thanks to the team's support and expertise. As a result, the project went without a hitch and was completed on schedule
In 2021, we made the decision to migrate to Epicor. From the outset, we had a dedicated project manager to ensure that Matritech and EC Solution could follow the migration steps and advance the verification and validation stages.

—Jean-François Nadeau, Head of IT and Continuous Improvement
A Technological Helping Hand from Certified ERP Experts
To simplify their migration to Epicor, Matritech sought help from real experts. EC Solutions is an Epicor Gold Partner, a certification that recognizes the quality of the Epicor implementations and services a company offers.
Digital transformations are ambitious projects that require finesse and expertise. Our experts have a thorough understanding of the challenges faced by manufacturers. This means we can guide them through the process and develop solutions that meet all their needs.
EC Solutions enables us to take our business and our processes forward in a way that is always exemplary, with extremely solid skills.

—Jean-François Nadeau, Head of IT and Continuous Improvement
Don't hesitate to get in touch with our ERP specialists to find the best solution for your business. In the meantime, find out what our partner Matritech has to say about their experience with our team. Video available in French only.
Need help to develop bespoke business management and development strategies? Contact EC Solutions today to benefit from our expertise with Epicor ERP systems. Our team will take the time to analyze your requirements and objectives to determine the best implementations for your business.
Contact Our Experts
Our certified experts will be happy to discuss your objectives, answer your questions and advise you in the execution of your technology project. We favor a consultative approach to ensure that you have all the information you need to make the best decisions for your needs.
Address
3200, Highway Laval West
Laval (Quebec), H7T 2H6
Request a Call Back
If you'd like to talk to our consulting team, contact us via the form and we'll get back to you shortly.