Take the helm of your business growth with the Epicor Data Analytics software (EDA). If you're dealing with a sea of data and don't know what to do with it, this advanced ERP system is the ideal solution.  
A large number of companies are still not exploiting their big data (BI) to develop their business. This means business owners have everything to gain from exploiting this weakness to stand out as market leaders. 
Leverage the full power of your information with this integrated, scalable and intuitive solution. Find out how this revolutionary module facilitates the decision making process with pivot tables and the processing of relevant data sets. 
What Is Epicor Data
Analytics (EDA)?
Epicor EDA data management software is a module for analyzing and interactive visualization of data stored in ERP. In addition to enhanced visibility, the system offers advanced analytics tools for transforming data into actionable information. 
Epicor Data Analytics provides managers with an overview, which accelerates decision making and gives them access to previously untapped markets. 
This cloud based ERP solution is among the best software and data analysis tools on the market. Learn more about this solution from the systems integration and ERP modules specialists at EC Solutions.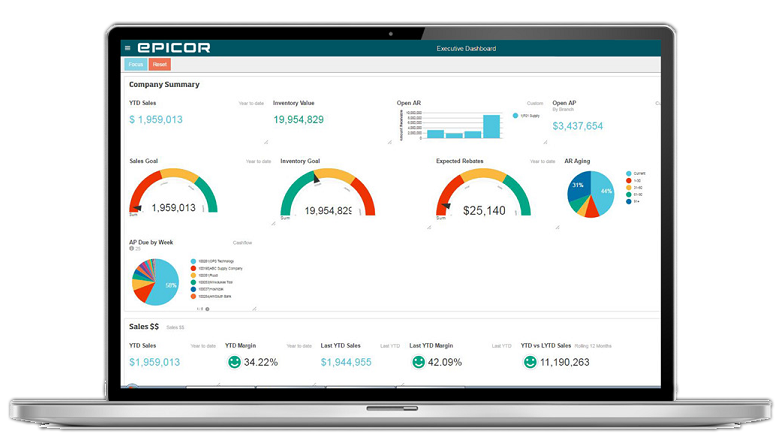 How Does Epicor EDA Operate?
Say goodbye to spreadsheets and simplify your tedious manual analysis processes. The software uses artificial intelligence to create a machine learning algorithm to process the data stored in the cloud quickly.  
This innovative Epicor business intelligence technology allows managers to collect data and conduct more accurate analyses. 
Which Epicor ERP Solutions Can EDA Integrate With?
This flexible and adaptable module integrates perfectly with all Epicor solutions. Contact a certified partner to deploy your customized version of Epicor Data Analytics Prophet 21 or Kinetic ERP. 
To support growth goals, the company is leveraging Epicor to assist in simplifying processes, supporting greater production volume and streamlining compliance.

—Bill Waldoch, General Manager at Waldoch

Why Integrate EDA
with your Epicor Solution?
The EDA module provides advanced tools of business intelligence and analytics to assist companies in gaining greater visibility of their data. Users have access to interactive, preconfigured dashboards that are immediately available.  
Regardless of your managers' technological capabilities, it's one of the best data analytics tools for optimizing your data management. And with drag and drop functionality, data modeling has never been easier. 
As well as being user friendly, the software is also customizable. This means your managers have the flexibility to work with user defined fields. For example, creating personalized SQL queries and collecting relevant data from multiple sources to support fact driven business decisions. 
Competitive Strengths of this Data Processing Software
Real-time business data

 

Faster reporting and enhanced forecast accuracy with predictive analytics

 

Easy access to information (visual data)

 

In-depth statistical analytics

 

Buying trends

 

Margin improvement

 

Costs per activity

 

Inventory management (dead and slow)

 

Cloud based data warehouses to improve mobility

 

Easy integration with existing Epicor ERP solutions
Epicor Data Analytics Among
the Best Data Analysis Tools Available
Epicor Data Analytics is not another one of these simple data analytics solutions. It's a trustworthy all-in-one business intelligence platform for unlocking your full potential. You'll uncover valuable insights from data, reduce costs, and increase margins in one powerful and intuitive interface.  
Questions about Epicor Data Analytics (EDA)? Contact us and take your business to the next level with an integrated solution that simplifies the way you make decisions. Entrust us with the integration of the modules that will support your growth. 
Contact Our Experts
Our certified experts will be happy to discuss your objectives, answer your questions and advise you in the execution of your technology project. We favor a consultative approach to ensure that you have all the information you need to make the best decisions for your needs.
Address
3200, Highway Laval West
Laval (Quebec), H7T 2H6
Request a Call Back
If you'd like to talk to our consulting team, contact us via the form and we'll get back to you shortly.