Epicor Insights, the annual conference hosted by ERP software company Epicor, brings together partners from across the globe to gain invaluable insight on current ERP trends. 2022 was no different and the team at EC Solutions came back from Nashville with all the top secret information for the year.
Whether you're looking for an ERP, have just implemented one, or are an old-timer, these Epicor updates are crucial to know when moving forward with your business's objectives. For companies in the manufacturing and distribution industries, keeping up to date with your ERP software is a lifeline in a sector that is evolving at a rapid pace.
If you weren't able to attend, no worries, we've got you covered with the top three themes of this year's conference: automation, Cloud-based, and low code vs no code were highlighted throughout the conference.
Let's take a look at how they apply to your ERP and business processes.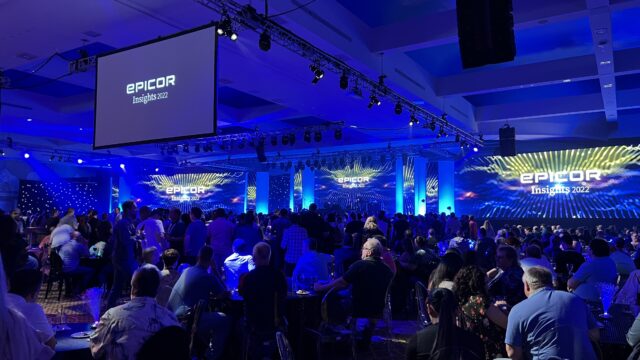 Low Code or No Code Platform
Most ERP systems require developers to structure the backend with customizations, add-ons, and modules specific to each company's needs and objectives.
However, at this year's conference, the idea behind low code and no code was extensively discussed. A platform with low or no code is relatively straightforward, and as the words suggests, allows users to have a more streamlined experience with their ERP system. Not just as a developer, but across departments where backend knowledge isn't a priority.
Before we go into more detail, first things first. What is the difference between low code and no code? And moreso, is there even one?
At first glance, it can be hard to decipher the two. To spare you the nitty-gritty explanations, low code is designed for developers of multiple skill levels to create applications with minimum coding through a drag and drop function.
No code is targeted towards users such as IT professionals or business representatives who don't have the necessary skills to code or understand programming language. This type of code also features the drag and drop functionality, but is geared for more specific use-cases.
Each type of platform has its own pros and cons, but both provide non-technical resources to personalize your system.
At Epicor Insights 2022, Epicor announced the launch of two new functionalities to coincide with this type of low code/no code platform: Automation Studio and Grow.
Epicor Automation Studio, an iPaas solution, is a low code integration tool that facilitates data connection across applications to create automated workflows all within the Epicor environment. This new creation is the ideal solution for companies, as users across departments, from sales to human resources, can benefit from an uncomplicated process.
In March 2022, Epicor acquired Grow Inc., a no code business intelligence platform that allows all employees, whether they're in the warehouse, store, or distribution center, to make critical business decisions on the spot thanks to accessible dashboards and data visualizations.
These two tools are designed for the Epicor customer to help facilitate user experience and allow businesses to take charge of their digital transformation.
Whether you're using epicor for manufacturing or epicor for distribution, this new change will be a healthy addition to your ERP system as well as create a centralized core for all users.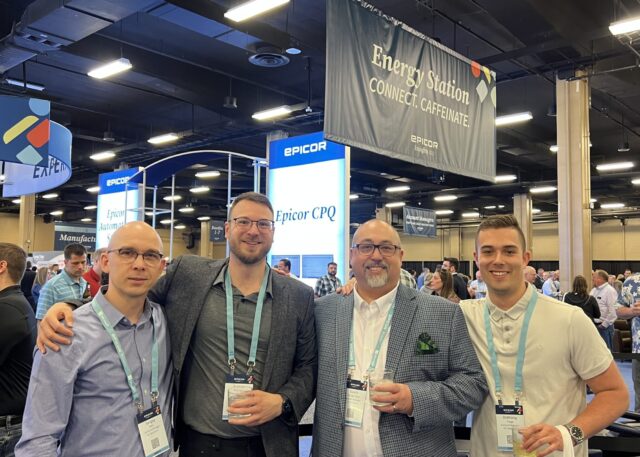 ERP Automation
When transforming your business operations, there are many concerns that are often raised. Automation versus manualization is almost always at the top of that list. As is the case with most changes in life, there will always be pushback, but trust us when we say, automation will revolutionize your processes.
When it comes to the manufacturing industry, it's become more and more obvious that automation is at the heart of digital transformation. This industry is often intimidated by automation, but when it comes to automating an ERP platform like Epicor, the goal isn't to take away responsibility, but rather to reinforce the human side of the job.
Throughout Epicor Insights, the idea that robots replace humans was continually mentioned and always rebutted as unfounded. Automation should be thought of as liberating. Workers can now be free from doing unnecessary tasks that don't add value to their professional growth. Instead they are able to focus on more important tasks at hand that are advantageous for the employee and company.
When it comes to Epicor ERP, the launch of Automation Studio provides the opportunity for Epicor users to manage workflows with applications outside of the ERP, which increases automation opportunities tenfold.
The days of waiting around for data to produce itself are over. With this new automation tool, once you've launched a new automation, you can collect data in real-time through sensors (between each other with an application like Epicor's Advanced MES).
This is extremely important for businesses as they are able to have a true view of the status of the production floor, which leads to better decision making. Having analytical data at your fingertips without the need to spend hours looking for the data in several different systems will completely change how you manage business operations.
In other words, you can focus on what truly matters, your core business objectives around growth and development.
Epicor in the Cloud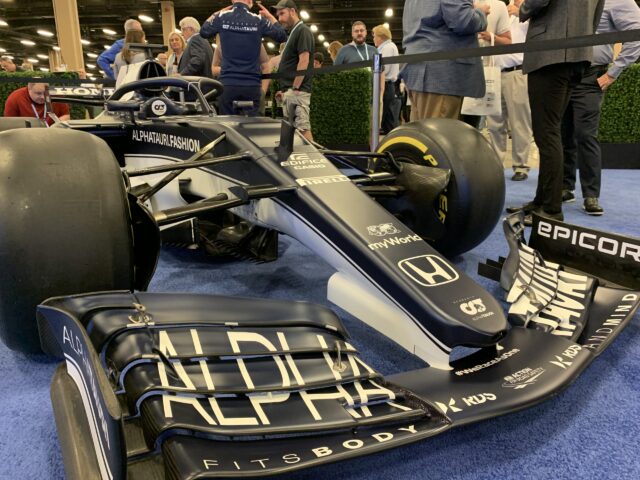 No matter the size of your company, one thing is certain: Cloud ERP is here to stay. And if you haven't already jumped on that bandwagon, you're already being left behind.
Today, more than 90% of businesses have adopted Cloud technology. It allows you to grow and scale, build apps, and as mentioned above can be easily managed (no code or low code). In fact, it was a no-brainer discussion during this year's Insight conference.
It's a trend that won't be going away anytime soon. Cloud-based software in the IT industry is making a splash and with the strategic direction of Epicor, it'll be the key to your business growth.
Being in the Cloud is incredibly advantageous for industry-specific requirements. SaaS solutions like Epicor Kinetic for manufacturers and Prophet 21 for distributors are both housed on the Cloud in Microsoft Azure and provide that necessary unique customization.
Cloud-based deployment has more flexibility and speed in regards to performance, which allows businesses to leverage their ERP to increase productivity and profitability, putting them way above their competitors.
Take Formula 1, for example. This type of speed is essential for Formula 1 team, Scuderia AlphaTauri. The manufacture of a Formula 1 car depends on 14,000 different parts that must be assembled with the highest level of precision.
The partnership between AlphaTauri and Epicor allows the team to concentrate on what is happening on the track, all while having the confidence that the factory will be able to provide them with what they need.
If you're looking to curate the right solution for your business, Epicor's latest updates are the key for both manufacturing and distribution companies. These three trends are here to stay and are crucial to the success of a business. Contact the EC Solutions team to see how we can help revitalize your core operational processes.